We've seen many ups and downs over the last few weeks. An increase of dosage for one of my son's new medications brought back unwelcome side effects. His seizures are only slightly more under control than they were before, but he's exhausted and has a hard time sleeping through the night. His mood and behavior have been bouncing around from stable and happy to angry and defiant.
When it's at it's worst, little incidents explode into big ones. The escalation is so fast that it's jarring and catches us off-guard. It's so fast and the situation is so frustrating that we don't always respond in the best way. Then we find ourselves in the middle of the tornado. He'll say mean things. He tells us he wants us to throw everything away and that he deserves it. I can sense the shame and guilt swell inside and overwhelm him. We hold him and tell him that we love him and wait for the storm to pass. When it does, there are usually tears and remorse and regret. As a father, these moments rip me apart.
These side effects are cruel, especially for someone his age. Between the side effects, the diet, the appointments, and the seizures, he has little time to be a kid. There aren't many chances for him to be free, to make a mess, and to not have the complications of his life burden him. There aren't many chances for us to let our guard down, either. We're always on the edge worrying about him, trying to keep him safe and regulate these side effects. We're as confined as he is.
But, sometimes, we find opportunities where we can all have fun and enjoy the moment. My son loves dressing up as Captain America, so my wife planned a Super Hero Scavenger Hunt for his birthday. He and his friends had to chase down the evil villain the Snake Robber, the role that I was taking on. The idea of running through the streets with a mask and stuffed snake around my neck made me anxious. I'm a shy, quiet, reserved individual that follows rules and avoids chaos. But I went into it with an open mind and the singular thought that it would make my son (and wife) happy.
I made my way to the location where the superhero party would encounter me for the first time. I waited nervously on a bench in the park while curious onlookers moved further away. Across the park, I saw one of the kids spot me and point in my direction. Then, they charged. Within a minute, they had covered me with Silly String and laughter. My son had a huge smile on his face as he and his friends chased me around the park. Then I used my freeze ray to, well, freeze them and escape to the next location.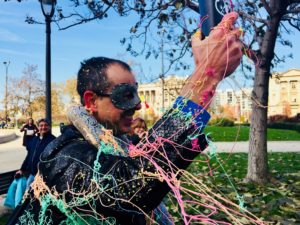 I had a huge smile of my own on my face as I ran to set up the next battle. This time, the kids trapped me until I told them that I hid a dozen of their teddy bear friends in the park. While they looked for them, I escaped again. Eventually, they caught up with me and saw me entering my lair to assemble a machine to steal their powers.
In the final battle, the superheroes found me near the pool assembling my machine. I froze all the heroes again except for Captain America who used his shield to deflect the ray. He advanced on me while his friends watched and defeated me by pushing me into the pool.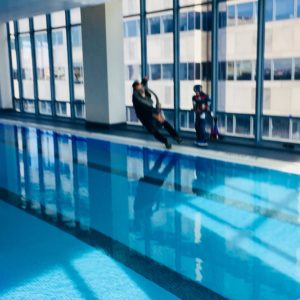 As I laid in the pool, I looked up to see my son with the biggest smile on his face and his arms raised in victory. Behind us, I could hear his friends screaming and cheering him for him. Captain America had saved the day. At that moment, there were no side effects. No appointments. No seizures. There was just my son being happy. And being a kid.