Coming out of the womb, all my son wanted to do was play hockey. He started skating before he was two, and we played floor hockey almost every day, even when he had a broken foot. When he was five, before we left Colorado, we signed him up for an "Intro To Hockey" class. Watching him step on to  the ice (and fall) for the first time in full hockey gear was one of my favorite moments. I remember him skating around during warmups as if he was preparing for an NHL game. His energy was electric. Every time he made eye contact with me, I saw the look on his face that, as his father, I've strived to replicate ever since.
The onset of his seizures changed our lives in many ways. Huge ways. Profound ways. But one of the hardest things for me to accept was taking away that look my son had when he was on the ice. When the seizures started, he would ask when he could get back to playing hockey. When he was at his worst, he stopped asking altogether. It was like taking air from him when he desperately needed to breathe. He needed to feel a connection to something to take away the fear and uncertainty. We couldn't play floor hockey. We'd watch hockey on the television but I didn't know if that was helping or hurting. They were pictures of a lost love that stayed just out of reach.
After a long recovery, but amidst continuing seizures, he picked up his hockey stick again. Our epic battles of floor hockey returned. He skated, but it was inconsistent and only as his endurance, balance, and ataxia would allow. We found a coach to work with him off the ice on hockey skills. It was good to see him back in the world that he loved, but those activities were only parts of the whole. As he was able to do more of these activities, he started asking about ice hockey again. Every time he did, I still didn't have an answer. It broke my heart.
For two years, that question stabbed me every time he asked it. Finally, though, after grueling rehabilitation, we did something I thought was impossible. We signed him up for another hockey class. Granted, the first class didn't go as planned. As I mentioned in a previous post, that first time back on the ice include a handful of seizures. But he stuck with it and he's been going as much as his body and mind will allow. There were a few sessions he missed because he was too exhausted. But he kept going back, even when the drills were hard and as he struggled to control his body. He falls a lot, maybe not more than other kids, but every fall takes its toll more on him. Physically and emotionally, after practice he is spent, wasted and unraveled. But during class, he's so, so happy.
Last week, they set up nets and let the kids move the puck from one and to the other and shoot. Unless you're a goalie (or even if you are), scoring a goal represents one of the defining moments for a player. Watch a young player in the NHL score his first goal and you can see that lifetime of waiting finally end. I felt the same way watching my son push the puck across the ice and take a shot. It seemed like a lifetime had passed since that class in Colorado. But after he took a shot, and after the puck slowly crossed into the net, he made eye contact with me. I saw the look that I wondered if I would ever see again.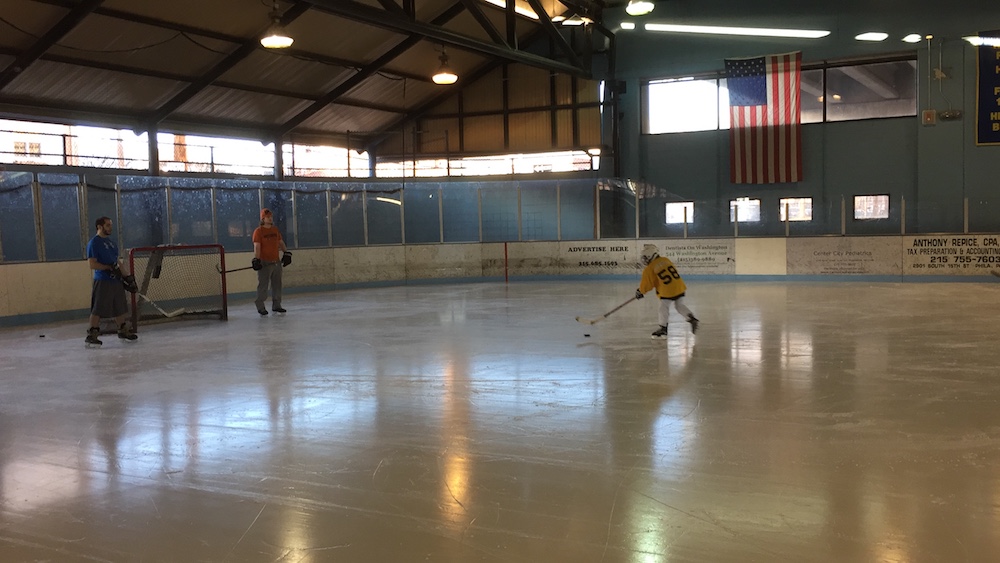 During the car ride home that night, we watched the videos I took of him on my phone. "Did you see me score a goal on the backhand?" he asked. "Of course, " I replied and restarted the video. We watched it over and over. Every time, I was more grateful than the last.