The music pumped through my earbuds and filled my ears and mind as I crossed the bridge towards University City. A heavy bag of gear laid across my back. With each step, the skates that were tied together and draped around my neck swung left and right across my chest. Two sticks were pressed together in my left hand as my right tugged on the bag strap around my shoulder. The walk took less than fifteen minutes.
The walk took less than fifteen minutes. I descended the stairs and saw my destination. A few more steps and I pushed through the doors and turned the corner to a door with a faded white "4" on it. I rested my sticks against the wall and pushed the door open with my foot and slid into the musty locker room. There were already people, mostly college kids, getting changed. I found an open spot on the bench, dropped my bag to the floor with a thud, sat down, and began the ritual of getting dressed.
Lower body first…jock, knee pads, garter, breezers and socks. Skates are always next, then a big, deep breath to try to shake the butterflies. Upper body…shoulder pads, elbow pads, and jersey. I stuffed my gloves into my helmet, grabbed my water bottle, and walked towards the ice, grabbing my sticks on the way.
At the bench, I finished the routine. Mouth guard in and helmet snapped on. One stick on the bench, the other in my hand as I slid my left leg over the boards and pulled myself up to sit on the edge. A slight shift and I felt my skates make contact with the ice and, without hesitation, I pushed myself forward and picked up a puck with my stick. The butterflies were gone, replaced by excitement and a huge, grateful smile.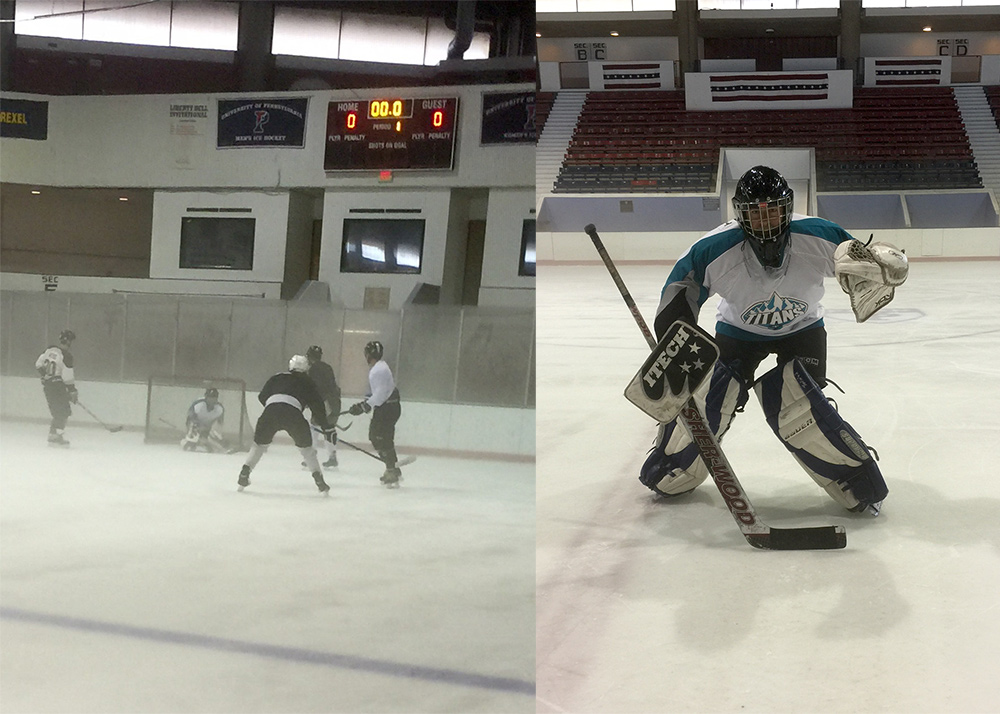 In a previous post, I wrote about the importance of taking care of myself so that I can take care of those around me. Playing hockey a few times a month is one of the things that I do for myself. I exercise at least three days a week but, usually, it is with the mindset of keeping myself healthy…a "have to" instead of a "want to". While I enjoy the benefits and the feeling of a good run after it's over, exercising is generally a chore instead of something that I honestly look forward to. Hockey, though, goes on the calendar, not on the to-do list, and I count down the days until I play again like it's Christmas.
It's hard to make the time to do things for myself. I feel so responsible for my family that I feel like I either need to be spending time with them or doing things for them and there is no room in that mindset for anything else. But I also largely walked around burned out after my son was diagnosed with epilepsy. I was scared, and frustrated, and overwhelmed and those feelings came out when I interacted with my family. I was distant, and irritable, and resentful. I wasn't able to truly be present and connect with the most important people in my life when it mattered most.
I knew something had to change. I needed to find time to not be surrounded by the enormous responsibility I feel all the time. I needed an outlet to relieve the pressure. On the ice, I am able to focus on my game. I needed to find better coping skills to handle the pressure, so I found someone to talk to that is helping me develop those skills. I write as a way to process my thoughts and most of it is done without the expectation of being published. The absence of an obligation to do these things and to, instead, feel like I am doing them for myself is liberating. These activities help me breathe and to be more present so that when I return to my family, it is hopefully as a better husband and a better father.
If you're reading this, you can probably relate to the feelings of being overwhelmed, and the feeling that there is no time to do anything for yourself because of the obligations that come with caring for someone that needs more attention and keeping everything afloat. I want you to know that that is not a sustainable situation. You will burn out. You will get resentful. You will find yourself further away from the same people who you are sacrificing for, and you owe it to them and to yourself to find something that you can do for yourself, free of obligation, to refresh, recharge, and to persevere.
What things do you do for yourself that are free from obligation? Share with the community by leaving a comment with an activity that you do for yourself.