When I was young, I loved playing with Legos. At my grandparents' house, my favorite toy was a box of loose bricks. I would turn them into houses, or animals, or fighter jets. I remember "upgrading" to the more advanced Technic set when I was about ten. It felt like a right of passage. You're born, learn to walk and talk, play with kid Legos, then hit that milestone of playing with Technic. From there, it's all downhill and the only things left are to do are learn to drive, marry, have kids and, finally, die.
My son has developed his own affinity for the little plastic toys. Late last year, he needed less of my help to assemble the kits. It's one of those moments that both made me proud for his accomplishments and sad for my loss of usefulness. Now, he is putting more complicated sets together mostly by himself. He'll spend hours working through the instructions until he reveals his masterpiece.
Sometimes he'll still ask for help with some of the smaller bricks because he has a hard time taking them apart. When I go to him, I see his little fingers struggle to grasp the tiny pieces. Especially when he is tired, his ataxia is more noticeable. His hands shake and make tasks that need fine motor control almost impossible. On his face, you can see the attention he is trying to give to his efforts. But his body's instability wins out over his mind.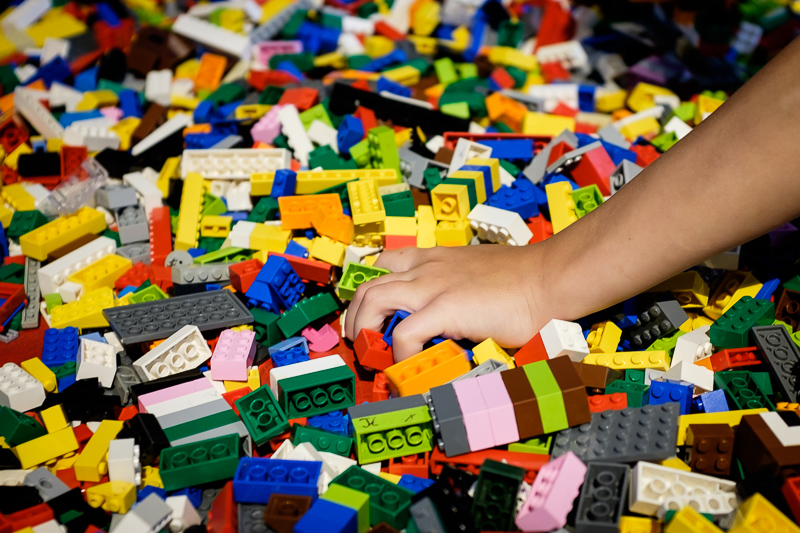 It's frustrating and sad to watch. Compared to the occasional seizure or handful of pills he takes twice a day, the shakes are always there. They're visible playing with Legos, trying to use a fork, and coloring and writing. They make learning new tasks difficult and they make playtime harder than it should be. I can't imagine the mask he wears and how frustrated he feels inside when he tells me "I'm just a little shaky."
Those words cut through me. I can't fix it. It's hard to watch him struggle. These are some of the same activities he works on in therapy and the more he does them, the better he will get at them. But many of these tasks will never be easy for him. It's hard to watch my son have a hard time with such basic tasks like using a fork. It's hard to let him struggle through and not do something for him or let him take a shortcut and eat with his hands.
I want to encourage that mindset of pushing through because I hope it will get better. He already has such determination and I want him to keep it. Even when it's hard. Even when it's unfair. Even when there are easier options. Why? Because that's what is going to help him survive and succeed with the challenges he has ahead of him. My job as his father is to prepare him for what is ahead. Even if it means watching him struggle and shake. But I also want him to know that I am there for him should it get too hard. I want him to know that he is not alone.
I'm struggling to find the right balance between helping and letting him keep trying. When is it helping and when is it cruel? It's cruel what this disease has done to him. I worry that I'm being cruel too when I watch him suffer its effects when I could step in to help.
How much of this is me hoping he'll struggle through it and that there will be another side? What if there is no other side? What if it gets worse? What does that mean for when my wife and I are gone? I try to focus on the positive progress he has made since his condition was worse. But it's hard to do when I'm looking at my child struggle because of his condition. The thought of this being the rest of his life is too much to think about with a seven-year-old.
And there aren't any answers, at least for now. His condition changes, his medicine changes, his body will continue to change. I try to remind myself to take each day as it comes and to take my son wherever he is that day. Doing that is one of the hardest things I have ever had to do in my life. But when I can do it, I see a little boy smiling as he creates something out of bricks. I see that sense of accomplishment on his face when he shows us what he made. And sometimes, I think things are going to work out okay.